About Setta
At SETTA, we believe fashion is more than just clothing; it's a means of self-expression and a celebration of individuality. The founders of SETTA envisioned creating a brand that elevates the wearer, promotes body positivity, and transforms the jumpsuit from difficult to chic.
As the only ready-to-wear fashion brand that specializes in all-in-one pieces, we're dedicated to crafting unique and original silhouettes that showcase quality craftsmanship, textile innovation, and edgy style.
Designs created to live in your closet forever, season after season. Based in the UAE, curated for those who push the boundaries. Join us and set the lane with SETTA.
Our Mission
To create all-in-one customizable designs that exude confidence & allow individuals to express their unique style.
With innovative detachable capes, we offer a standout look that adds a touch of empowerment to every outfit. Our women's jumpsuits are the epitome of versatility and dynamism, seamlessly blending the timeless appeal of the jumpsuit with modern fashion concepts.
Join us at SETTA and embrace the art of self-expression through our jumpsuits.
OUR STORY
Living in a fast-paced world where quantity is valued over quality, a women's jumpsuit brand emerges: SETTA. We have dedicated years to perfecting the jumpsuit, with each design carefully crafted to highlight the wearer's individuality and make a statement among the masses.
SETTA is committed to creating premium, contemporary, and one-of-a-kind ready-to-wear pieces. Putting the consumer at the forefront, SETTA has reimagined and redefined the women's jumpsuit to offer functionality, style, and comfort for the wearer. Specializing in all-in-one ensembles, SETTA strives to cater to diverse body types and sizes. Join the jumpsuit revolution and embrace the versatility of playsuits, utility suits, one-pieces, jumpsuits, rompers, and overalls.
Our designers and skilled artisans have dedicated years to perfecting each garment. Each piece exudes fierceness, boasts a form-fitting silhouette, and captivates with unique fabrics, bold colors, and exceptional tailoring. This collection is designed to effortlessly transition from day to night, offering everything from boiler suits to playsuits.
SETTA creates classic silhouettes with a modern twist that captivates attention with every step.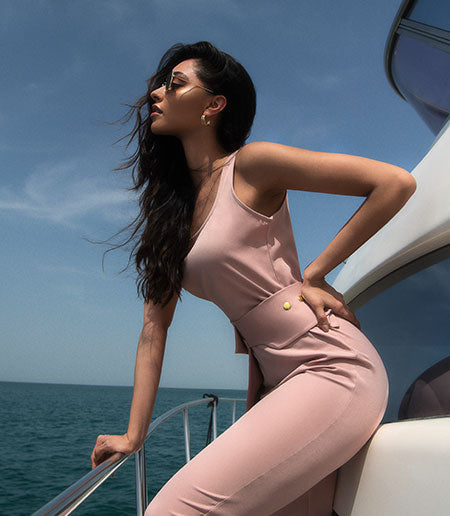 Get In Touch
Cairo, Egypt:
Location: 8 (A) Al-Sakhawi Street, Manshiet El-Bakry,Cairo, Egypt Fourth floor apartment 8.
Phone number: +201025511099.
Abu Dhabi, UAE:
Location: P.O. Box: 5941, Abu Dhabi, United Arab Emirates.
Phone Number: +971545866660
Istanbul, Turkey:
Location: 15 Temmuz, Alpay Sk. No:4, 34212 Bagcilar/Istanbul,Türkiye.
London, UK:
Location: 71-75 SHELTON STREET, LONDON, GREATER
LONDON, WC2H 9JQ.
Phone number: +44 (0300 2003410). Setta International Trading LLC.